Nominated Senator Millicent Omanga has shared a photo on Twitter that elicited mixed reactions from Kenyans on the platform. Yesterday at 10.20 PM, Omanga who is not new to controversy tweeted a photo of her waving to some UDA supporters in an unknown location and captioned it: Tusalimiane kwa hewa tukienda kulala, hash tag, Mama Miradi.
Her huge behind with what appears to be a panty line can be seen on the image thus sending Team Mafisi scampering for safety as they try to seek means to cure their thirst.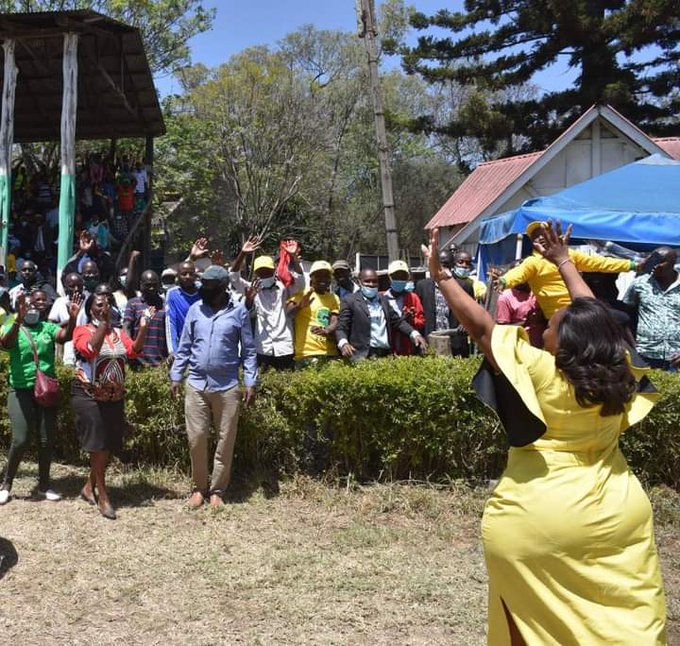 Millicent, who in many cases has never missed to tap any opportunity she gets, to share her behind photos received love, attention, and criticism in equal measure following the tweet. Some said she was not going to miss the chopping board in this coming elections as they swore to vote her out, while others sent their thirst messages even asking her if they could get a 'chance to take a bite.'
Read Also: Miss Mandi's Big Win That Will Annoy Kenyans On Twitter
Here are some of the comments:
Cornel Saitaga: I need you, Millie. Please, bankrupt but I'm good in bed.
Chad Birong: Nice ass, Mheshimiwa. Wakunywe!
Ole Lenana: Hiyo haga, ndo inafanya upewe nomination.
Koyo Collinto: A rare photo of Omanga showing the only thing she can offer to Nairobians.
Clemo Frank: Ama Sugoi chief huchapa hizi stuff?
Dess Chevy: Kapantie Kamejichora
Mic Sonko: Unapenda kuonyeshana hii Matako yako lakini. Si ufungue Onlyfans one time basi.
The well-endowed legislator, who is vying for Women Representative in Nairobi County, once penned a letter to the Public Service Commission (PSC) requesting to be bumped to business class which would ensure a comfortable travel for her. Reason? She said her behind was too big to fit the little seats on the plane's economy class.